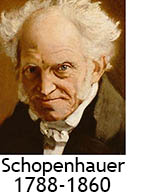 The German Arthur Schopenhauer was the greatest philosopher of pessimism. He wrote one thick tome: Die Welt als Wille und Vorstellung. No need to read it. His philosophy is best summarized with two German words: ALLES SCHEISSE
But Schopenhauer was inconsistent, even self-contradictory. On the one hand, he claimed, as a true pessimist, that there is no value to human endeavors, or life itself. Anyway, it's only illusions and suffering. On the other hand, Schopenhauer was vain. He longed for public and academic recognition for his philosophical work.
From the peer-reviewed Internet Encyclopedia of Philosophy: "In 1820, Schopenhauer was awarded permission to lecture at the University of Berlin. He deliberately, and impudently, scheduled his lectures during the same hour as those of G.W.F. Hegel, who was the most distinguished member of the faculty. Only a handful of students attended Schopenhauer's lectures while over 200 students attended the lectures of Hegel... The following decade was perhaps Schopenhauer's darkest and least productive. Not only did he suffer from the lack of recognition that his groundbreaking philosophy received, but he also suffered from a variety of illnesses... He published a work of popular philosophical essays and aphorisms aimed at the general public in 1851 under the title, Parerga and Paralipomena... This work, the most unlikely of his books, earned him his fame, and from the most unlikely of places: a review written by the English scholar John Oxenford... The review excited an interest in German readers, and Schopenhauer became famous virtually overnight. Schopenhauer spent the rest of his life reveling in his hard won and belated fame, and died in 1860."
Why all that effort if, anyway, all and everything is worthless, and life is only suffering. Why not just go and kill yourself? Then all suffering ends.
Schopenhauer offered a labyrinthine reasoning why committing suicide would be a "foolish mistake". The reasoning is too mind-bending to be a simple truth. Or, as explained in a modern philosophical thesis by Cameron Smith (not the golfer): "We might wonder why suicide is a bad idea. Even if one cannot solve the universal problem of suffering by killing himself, one might retort that a universal problem is by definition unsolvable, and that therefore the fact that suicide does not solve the universal problem of suffering fails as a reason not to do it... Still, we might wonder why Schopenhauer is convinced that attaining salvation is better than death. After all, the fact that death prevents one from attaining salvation is a good reason not to kill oneself only if salvation is somehow qualitatively better than death by suicide. But while there is a clear difference between the after-life of a suicide and that of a saint according to some religious-metaphysical traditions, it is difficult to see what difference there could be according to Schopenhauer's philosophy."
Anyway, I know something better than pessimism. It's sarcasm as a philosophy.
With a sarcastic perspective, we answer the pessimists: Yes, all life is a failure; death, usually in agony, cannot be avoided; yes, maybe, before death, life is mostly suffering. But let's forget the pessimistic truth for a moment, and have some sex. Yes, ultimately, every life is a failure. So why bother? At least sex feels good. Of that, we are pretty sure. Never mind the pessimists.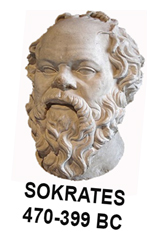 The sarcastic perspective, of course, has a long history. It dates right back to the origin of Western philosophy, Sokrates. Sokrates didn't burden himself with writing a philosophical theory. His concept of reasoning lay in asking ironical questions, and thus exposing the folly of other thinkers' metaphysical concepts.
In 399 BC, Sokrates was convicted to die by drinking a cup of poison hemlock. Sokrates didn't make a fuss about it. His last words weren't something like "I die for the future of mankind!" or "Truth will live forever!" His last words were directed to one of his disciples, Critio. Sokrates said: "Crito, we owe a cock to Asclepius. Do pay it. Don't forget."
Privacy Policy

TONGKATALI.ORG - Medan - North Sumatra - Indonesia