How to economize with our extracts
Buy our extracts as loose powders instead of capsules. For example, 1 bottle of 100 capsules of Grade A Indonesian 1:200 extract contains a net weight of 30 grams and costs 129 US dollars. That translates as 4.30 US dollars per gram. If instead, you buy 1 bottle of 100 grams of loose powder of the same product, the price will be 150 US dollars (just 1.50 US dollar per gram). One step further, 1 bottle of 400 grams of the same product is available for 486 US dollars (1.21 US dollars per gram).

Note: 1 leveled teaspoon is roughly equivalent to 1 capsule; 1 heaped teaspoon is slightly more than 5 capsules. Just like with instant coffee, effects are linear, and you will get a feel for your kick.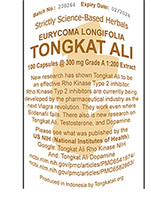 Indonesian Grade A 1:200 Tongkat Ali Extract
Capsules @ 300mg
100 - 129 USD
200 - 232 USD
400 - 418 USD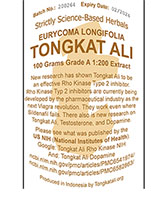 Indonesian Grade A 1:200 Tongkat Ali Extract
Grams
100 - 150 USD
200 - 270 USD
400 - 486 USD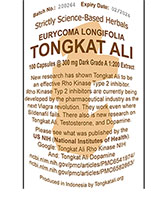 Traditional Indonesian Grade A 1:200 Tongkat Ali Extract
Capsules @ 300mg
100 - 159 USD
200 - 286 USD
400 - 515 USD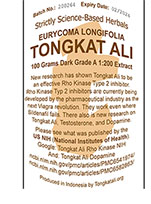 Traditional Indonesian Grade A 1:200 Tongkat Ali Extract Powder
Grams
100 - 180 USD
200 - 324 USD
400 - 583 USD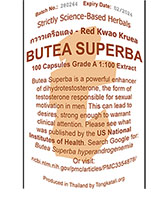 Butea Superba Grade A 1:100 Extract
Capsules @ 400mg
100 - 96 USD
200 - 155.40 USD
400 - 213.80 USD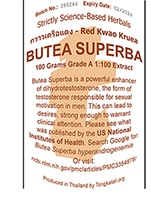 Butea Superba Grade A 1:100 Extract
Grams
100 - 105 USD
200 - 135 USD
400 - 243 USD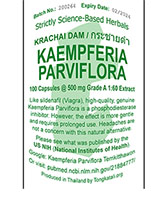 Kaempferia Parviflora Grade A 1:60 Extract
Capsules @ 500mg
100 - 139 USD
200 - 250 USD
400 - 450.30 USD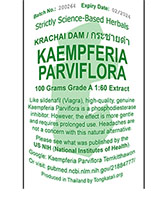 Kaempferia Parviflora Grade A 1:60 Extract
Grams
100 - 165 USD
200 - 297 USD
400 - 534.60 USD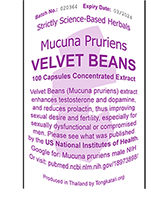 Velvet Beans Grade A 1:10 Extract
Capsules @ 600mg
100 - 129 USD
200 - 178.20 USD
400 - 320.70 USD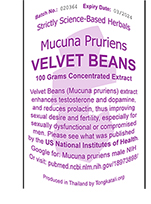 Velvet Beans Grade A 1:10 Extract
Grams
100 - 105 USD
200 - 135 USD
400 - 243 USD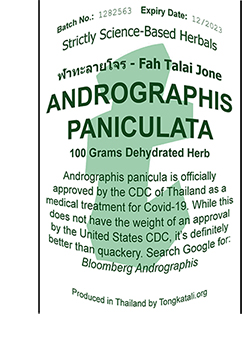 Andrographis Paniculata Grade A 1:20 Extract
Grams
100 - 105 USD
200 - 135 USD
400 - 243 USD
TONGKATALI.ORG - Medan - North Sumatra - Indonesia