Rho kinase inhibitors are the next Viagra revolution
By Serge Kreutz, 2021
When in March 1998, the US Food and Drug Administration approved Viagra for the treatment of male impotence (the name by which the condition was known back then), they kickstarted a sexual revolution on par with the one effected by the approval of the first birth control pill in 1960.
We are in for another round. After progesterone / estrogen formulas for young women and phosphodiesterase inhibitors for not-so-young men, the next chemical to do away with sexual inhibition among humans will, ironically enough, be again classified as an inhibitor... a category of substances known as Rho kinase inhibitors.
The connection between Rho kinase inhibition and erections is well established, and has made it even into the world's foremost scientific journal, Nature, with a slightly frivolous title:
Too much ROCK - erection block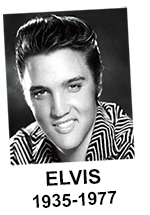 Not Rock'n'Roll. Elvis can rest in peace. ROCK is a scientific abbreviation for Rho-associated coiled-coil kinase, or Rho kinase, the thing we are talking about.
Quote from Nature: "A new study shows that mRNA expression of Rho kinase 2 (ROCK2), but not ROCK1, is upregulated in corpus cavernosum tissue (CCT) of men with erectile dysfunction (ED) who are refractory to phosphodiesterase type 5 (PDE5) inhibitor treatment. Combined ROCK and PDE5 inhibition resulted in enhanced relaxation of precontracted ED CCT.... Several ROCK inhibitors are being developed for indications such as hypertension. A ROCK2-selective inhibitor might be more effective in ED and have fewer off-target effects, and combination of PDE5 and ROCK inhibition might enable reduced doses and enhanced effects in the penis."
nature.com/articles/nrurol.2016.231.pdf
ROCK inhibitors are a hot topic in pharmaceutics. Here a quote from the Journal of Medicinal Chemistry, published by the American Chemical Society.
"ROCK inhibitors have potential therapeutic applicability in a wide variety of pathological conditions including asthma, cancer, erectile dysfunction, glaucoma, insulin resistance, kidney failure, neuronal degeneration, and osteoporosis."
Add the hypertension mentioned by Nature.
How come there is such a broad potential for a single therapeutic agent? This has to do with the fact that Rho kinases are present in every eukaryotic cell (which includes all cells of the human body).
Rho kinases are enzymes. They cut phosphate molecules from the universal cell fuel ATP (adenosine triphosphate) and attach them to proteins as a means of biochemical communication within cells.
Intracellular growth regulators depend on Rho kinases, and without an uninhibited growth regulator synthesis, cancers cannot grow and spread.
There even is a Rho kinase theory of aging that speculates that a large number of health conditions typically associated with aging are caused by uninhibited Rho kinase activity.
Rho kinases also command the synthesis of actin, a protein that builds the cytoskeleton (the "bones" in the cytoplasm that determine the shape of cells).
One of the causes of hypertension, for example, is the hardening of endothelial cells (arteriosclerosis) that line blood vessels; the condition may be aggravated by fat deposits (atherosclerosis). When hardened, endothelial cells can no longer properly relax, a process that would widen blood vessels and causes blood pressure to drop. The same mechanism of blood vessel relaxation, of course, causes penile erections.
Beta blockers like Propranolol can control heart rate and blood pressure by blocking receptors for adrenaline. Beta blockers have a quick onset. By contrast, so it is hypothesized, Rho kinase inhibitors could fix endothelial blood vessel cells over time by reducing excess cytoskeleton, which in turn would make these cells softer and more flexible.
In the same manner, a treatment course with Rho kinase inhibitors would work on the arteries in the corpora cavernosa (the erectile tissue of the penis) to return a patient to a state in which erections happen easily and naturally upon various kinds of stimulation (even mental).
But, as Nature mentioned, such therapeutic agents are still only being developed, and no Rock2 inhibitor as a treatment for erectile dysfunction is yet on the market.
On the other hand, recent research has determined that the sexuality-enhancing and erection-facilitating properties of Tongkat Ali are actually due to it being a Rho kinase inhibitor of considerable strength.
In 2019, the peer-reviewed scientific journal Evidence-Based Complementary and Alternative Medicine published a Special Issue on Toxic versus Therapeutic Effects of Natural Products on Reproductive Disorders.
This issue included a research article by the Tongkat Ali researcher Pharmacognosy Professor Shahira M. Ezzat (and four co-authors), rather technically headlined as Rho-Kinase II Inhibitory Potential of Eurycoma longifolia New Isolate for the Management of Erectile Dysfunction.
The URL of this journal article is:
hindawi.com/journals/ecam/2019/4341592
Searching Google for Rho-Kinase II Eurycoma longifolia will reliably return the article in first place. Eurycoma longifolia is the scientific name for Tongkat Ali.
Professor Shahira M. Ezzats team of scientists worked with full-spectrum (not fractionalized) Tongkat Ali extract and 8 chemical compounds isolated from a full-spectrum extract sample. The 8 compounds were:
1. stigmasterol
2. trans-coniferyl aldehyde
3. scopoletin
4. eurycomalactone
5. 6-a hydroxyeurycomalactone
6. eurycomanone
7. eurycomanol
8. eurycomanol-2-O-ß-D-glucopyranoside
They then measured how efficiently the full-spectrum extract and the 8 isolates at various concentrations would inhibit Rho kinsase in tissue samples.
The concentrations were 10 micrograms per milliliter, 1 microgram per milliliter, 0.1 micrograms per milliliter, and 0.01 micrograms per milliliter. 1000 micrograms = 1 milligram, 1000 milligrams = 1 gram.
At a concentration of 10 micrograms per milliliter, the full-spectrum Tongkat Ali extract inhibited Rho kinase at 81 percent.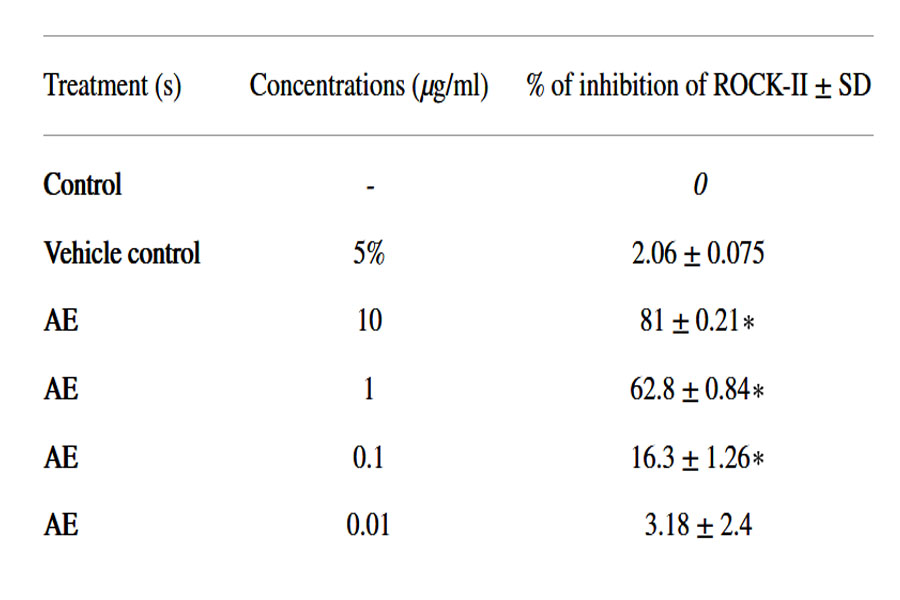 The strongest Rho kinase inhibition was achieved by the Eurycoma longifolia component trans-coniferyl aldehyde. Interestingly, the better known component Eurycomanone, hyped in multi-level marketing, fared worse than the full-spectrum extract. Thus, increasing the eurycomanone percentage of a product will make it less effective.
Our interest is in Tongkat Ali for sexual parameters. But that Tongkat ali is such a powerful Rho kinase inhibitor, and given the important role unleashed Rho kinases play in many cancers, some research on this plant appears in a new light.
Here just a few search results from Google Scholar that deal with the subject: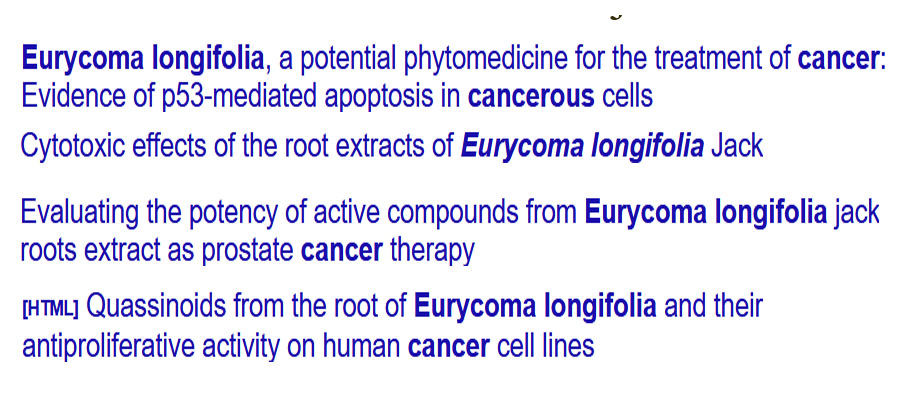 No, we are not suggesting that, in case you suffer from a cancer, you ditch your oncologist and switch to Tongkat Ali. But it is not far-fetched to imagine that a long-term Tongkat Ali regimen may keep Rho kinases sufficiently at bay to make a difference between an immune system that holds back cancers, and one that succumbs to some of them. Given the ubiquitous role of Rho kinases in morbidities, a press release by the Massachusetts Institute of Technology, MIT, about curing 1,000 diseases appears ever more appropriate.

Quote: "Genetic tools developed by MIT identify and preserve a Southeast Asian tree containing a substance that inhibits viruses and boosts fertility."
That was in 2003. Since then, the Massachusetts scientists have succeeded with the task of genetic identification, but the conservation efforts were a dismal failure.
Tongkat Ali grows in two countries, Malaysia and Indonesia. Both countries have long banned the export of raw Tongkat Ali.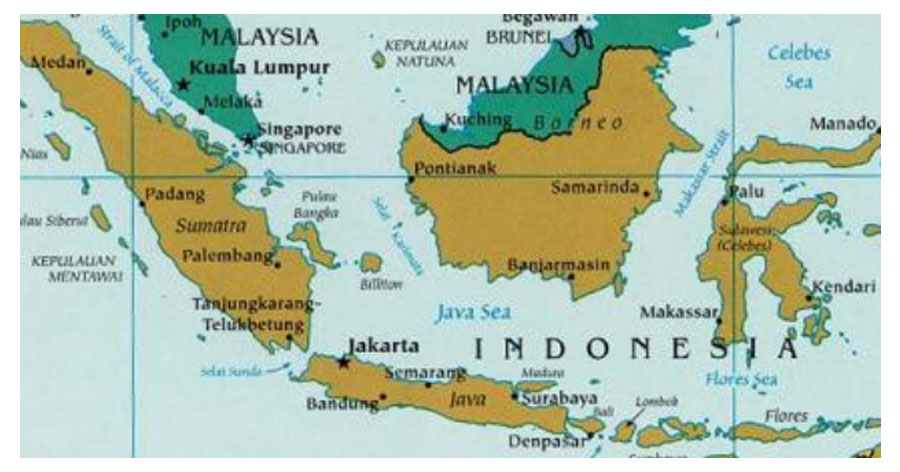 In both countries, the tree is a protected species. In Malaysia, the protection is enforced. In Indonesia, the situation is rather theoretical because tribal communities on adat (traditional ownership) lands have rights to the forests, which includes collecting the roots of Tongkat Ali trees.
The dilemma in Malaysia is local root consumption, with no Eurycoma longifolia around to match it. Desperate to meet demand for something called Tongkat Ali, Malaysian traders have turned to renaming local tubers as such.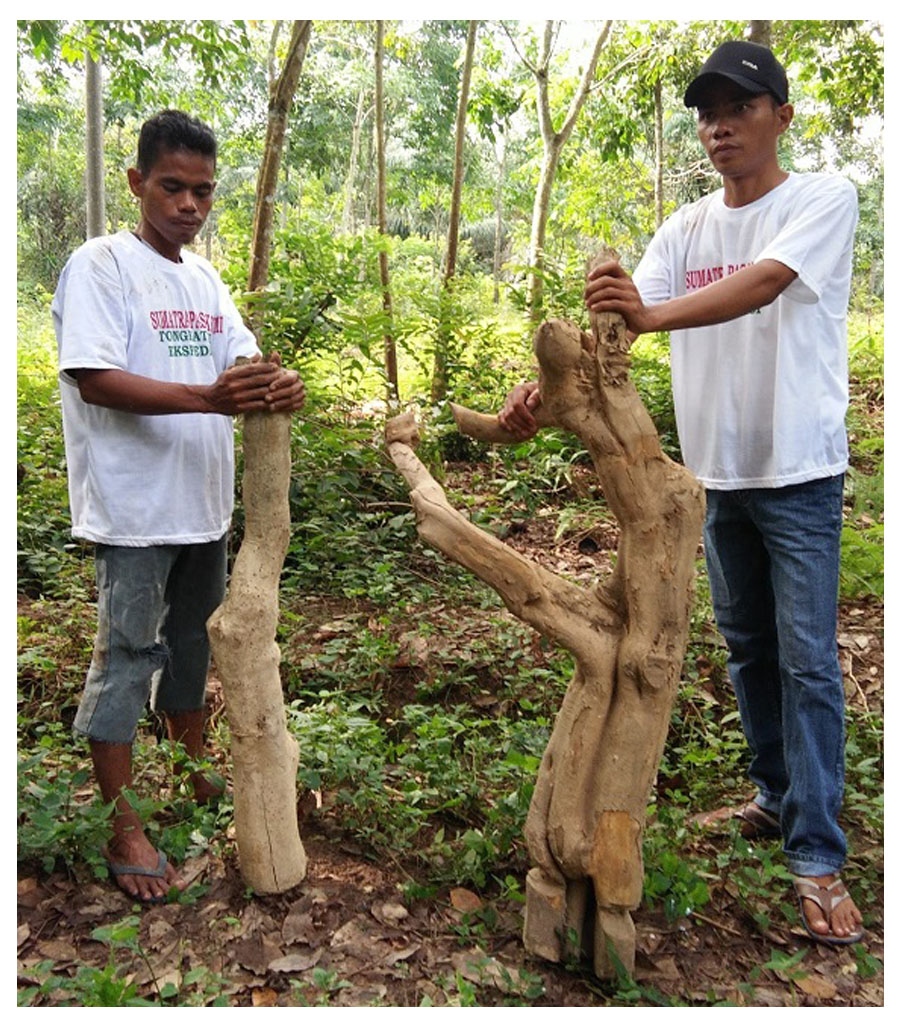 While the roots of old Tongkat Ali (Eurycoma longifolia) trees are of an impressive size and cannot be worked on with kitchen tools, a cheater's advantage of tubers is that they can just be sliced.
Try yourself a Google image search for sliced Tongkat Ali.
Depending on your geographic settings, you will get something like the below screenshot.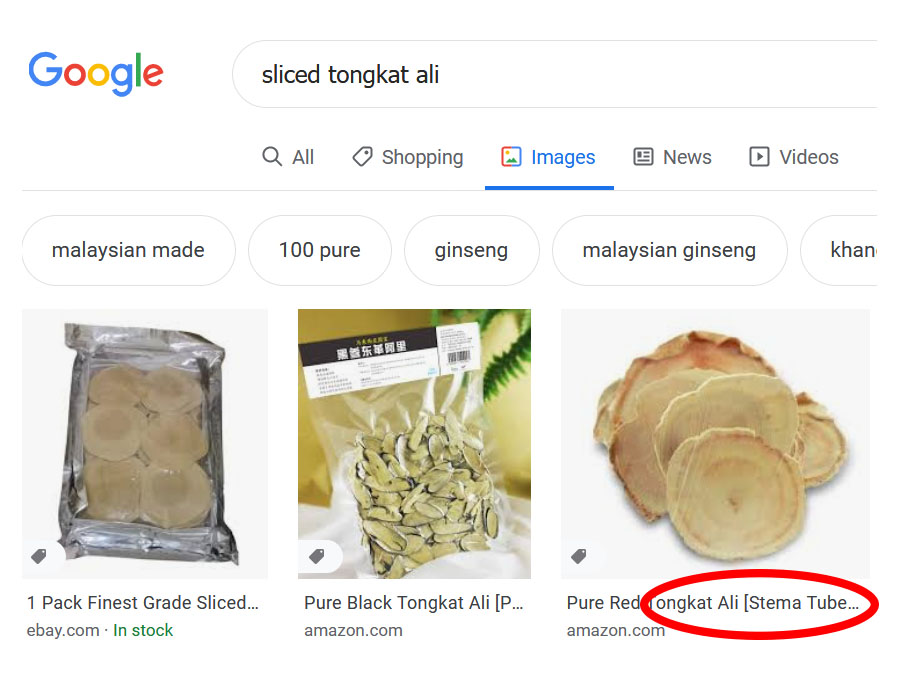 Incidentally, the screenshot already includes an indication of what sliced Tongkat Ali actually is: not Eurycoma longifolia, but an entirely unrelated plant, Stemona tuberosa.
There is nothing wrong with Stemona tuberosa, unless, of course, you were hoping to buy Tongkat Ali, Eurycoma longifolia.
Do the tubers of the Stemona tuberosa plant (pictured below) come with any health benefit?
The plant has hardly been studied. But so much is clear: it's not a Rho kinase inhibitor and does absolutely nothing for erections, testosterone, and libido.
In Indonesia, Tongkat Ali has also become rare, but not because of soaring local demand. Indonesia has been burning rainforests, including Tongkat Ali trees, at an alarming rate, to make space for palm oil plantations. And fires have caused a staggering loss of human life.

In addition to all other predicaments, Covid-19 has cut off most of Sumatra from the rest of the world. No international postal services since early 2020, no containers, and no airfreight. Even logistics within Indonesia are now a huge challenge, with a miserable pre-existing transportation infrastructure, travel bans, quarantine requirements, and Covid-19 red zones.
We at Tongkatali.org are in a better position than anybody else who wants to trade Tongkat Ali. Our roots are collected by tribal people in areas that are too mountainous for palm oil plantations, and with a presence in several Southeast Asian countries, we have found a way, to ship stock worldwide. We may well have become the only source for genuine Tongkat Ali.
TONGKATALI.ORG - Medan - North Sumatra - Indonesia