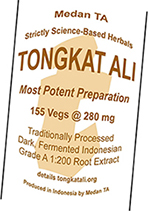 https://www.amazon.ca/dp/
B0BRHZTG15 - 155 caps @ 280 mg fermented root extract, 99 CAD
These are currently the only genuine tongkat ali capsules available on Amazon Canada, and once fully sold, the product will no longer be restocked.
The Canadian health authorities require extensive clinical trials to prove the efficacy of tongkat ali. No herbals trader could finance those, as the cost would run into millions of dollars.
The capsules options of other sellers on Amazon Canada are tongkat ali in name only, as they include, if any at all, only traces of tongkat ali (but nevertheless have tongkat ali as product name). Well, what Apple sells are also not apples.
Unlike opium, tongkat ali as a plant compound is not illegal. What is restricted, however, is the sale of tongkat ali as a health product. And if a product is packaged as capsules, it is, per se, considered a health product, regardless of any disclaimer that a products is "not intended to treat or prevent any disease".
These regulations existed for some time, but until a few months ago were not strictly applied, hence the reminder of our capsules that are still available on Amazon Canada. But as enforcement has thigtened, there won't be any resupply of our capsules.
Loose extract powder remains available. It is also much more economical.